ECS4620-28F is a high-performance Gigabit Ethernet Layer 3 switches featuring 28 ports; with 22 100/1000 SFP ports, 2 x 10/100/1000 Combo Ports, 2 x 10G SFP+ ports, and one 10G dual port expansion slot. The switches are ideal for high-performance server aggregations, such as enterprise data centers, where they can connect high-end or network-attached files servers over fiber ports. They can also be deployed as a backbone upgrade, or to provide Gigabit–to-the-desktop for power users. These switches are packed with features and are a cost-effective solution that bring continuous availability, enhanced security, and advanced QoS to the network edge, while maintaining simplicity of management.
Specs
Ports
24
Switch Type
Fixed Port
Routing/Switching
Layer 3
Features
IPv6 Management
Predominant Port Type
Gigabit Fiber
10 Gigabit Fiber
Features
Performance and Scalability – high-performance Gigabit Ethernet Layer 3 managed switches with 128 Gbps switching capacity.
Continuous Availability – The IEEE 802.1w Rapid Spanning Tree Protocol provides a loop-free network and redundant links to the core network with rapid convergence, ensuring a faster recovery from failed links and enhancing overall network stability and reliability.
Comprehensive QoS – offers advanced QoS for marking, classification, and scheduling to deliver best-in-class performance for data, voice, and video traffic at wire speed.
Enhanced Security – with Port security limits, IEEE 802.1X port-based or MAC-based access control, DHCP snooping, IP Source Guard, Access Control Lists (ACLs), Private VLANs (traffic segmentation per port), DAI (Dynamic ARP Inspection), Secure Shell (SSH) and Secure Sockets Layer (SSL/HTTPS) providing secure network management.
Simple Management – An industry-standard command-line interface (CLI), accessed through the console port or Telnet, provides a familiar user interface and command set for users to manage the switch.
Support IPv4/v6 L3 Features
High Speed Networking
Edgecore Networks provides a full range of managed switches to fulfill different deployment requirements. With the trend of high speed Ethernet, 10/40/100Gbps, Edgecore switches offer a complete set of advanced software features that will easily satisfy the demands of enterprises and SMBs everywhere. In addition to having a powerful L2/L3 feature set, heavy emphasis is placed on scalability and flexibility, so your network can grow with your organization.
In-house Software Development – NOS and NMS


Successful Story: Schulze Law Associates Headquarters in Brazil
Schulze Law Associates (Schulze Advogados Associados) are a large successful law firm in Brazil, providing legal consultancy to their business clients across the region. In over 20 years of operation, they expanded from their headquarters in Joinville and now have 15 branches around the country. When any business expands and develops, their data network requirements expand with them, so when Schulze Law Associates constructed their own new headquarters building in early 2012, they required a serious upgrade for their network infrastructure to match the new sophisticated environment.
The solution was based around a single Edgecore 24 ports 10G switch at the core of the network serving as a high-bandwidth collapsed backbone. The core 24 ports 10G switch provides 10 Gbps fiber interconnections to Edgecore L3 GE switch stacks on each floor of the building, which deliver Gigabit connections to desktops, wireless access points, security cameras, and other end-node devices. In addition, the 24 ports 10G switch also connects to centralized storage and a server farm, as well as to an edge router that handles Internet access and VPN connections to affiliate offices.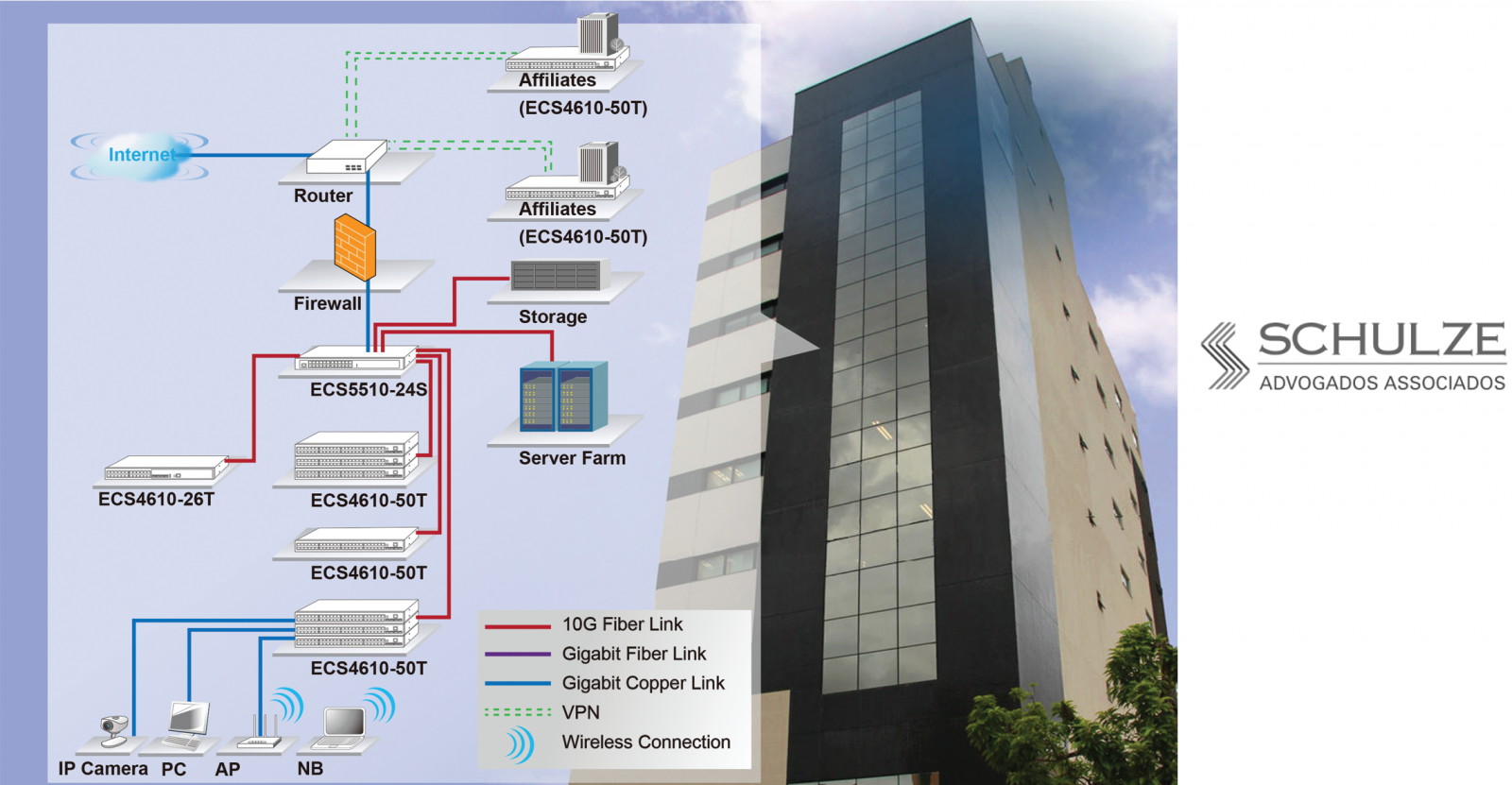 Successful Story: Restructure the Core and Edge in Enterprise Networks
When any business expands and develops, it faces big challenging on the network slow and data access slow, their data network requirements expand and need a serious upgrade the network infrastructure to match the new sophisticated environment.
Upgrade the overall network bandwidth, improving data access throughout the hospital (390 patient beds and 4 ICUs) in Brazil. 2 units of ECS4620-28T Layer 3 Gigabit switch in stack link to 4 units of ECS4510-28T Layer 2 Gigabit Switch with Fiber uplink served as core networks, while 40 units of ECS4110-52T Layer 2 Gigabit Standalone Switch and 10 units of ECS4210-28T distributed to different location in hospital to serve as edge networks. With those connectivity, more than 2000 pcs of devices are networked together to provide reliable and high-bandwidth service.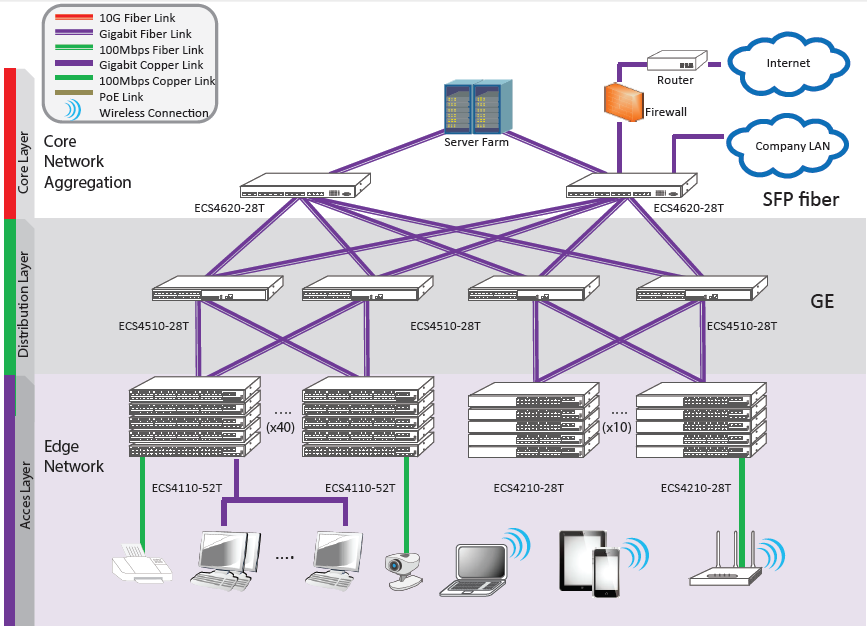 L2/L3 Managed Switches
Carrier Ethernet Access/Aggregation Switch
ECS4660-28F   L3 Gigabit Metro Ethernet Routing Switch – 24 1000Base-X SFP slots + 2 x 10G XFP uplink slots, 2 x 10G module slots
ECS4810-12M   L2 Gigabit Ethernet Carrier Grade Switch – 12 Combo GE ports + 1 x RJ45 Management Port, 1 x DB15 alarm port
PoE Switches
ECS4620-52P   L3 Gigabit Ethernet Stackable Switch – 48 x GE PoE+ + 2 x 10G SFP+ ports, 1 x expansion slot, 1 x RJ45 console port
ECS4620-28P   L3 Gigabit Ethernet Stackable Switch – 24 x GE PoE+ + 2 x 10G SFP+ ports + 1 x expansion slot, 1 x RJ45 console port
ECS4510-52P   L2+ Gigabit Ethernet Stackable Switch – 48 x GE PoE+ + 2 x 10G SFP+ ports + 1 x expansion slot, 1 x RJ45 console port
ECS4510-28P   L2+ Gigabit Ethernet Stackable Switch – 24 x GE PoE+ + 2 x 10G SFP+ ports + 1 x expansion slot, 1 x RJ45 console port
ECS4210-28P   L2 Gigabit Ethernet Access Switch – 24 x GE PoE+ + 4 GE SFP ports
ECS4210-12P   L2 Gigabit Ethernet Access Switch – 8 x GE PoE+ + 2 x GE + 2 x GE SFP ports
ECS4110-52P   L2 Gigabit Ethernet Standalone Switch – 48 x GE PoE+ + 4 GE SFP ports
ECS4110-28P   L2 Gigabit Ethernet Standalone Switch – 24 x GE PoE+ + 4 GE SFP ports
L3 Gigabit Ethernet Stackable Switches
ECS4620-52T   L3 Gigabit Ethernet Stackable Switch – 48 x GE + 2 x 10G SFP+ ports + 1 x expansion slot, 1 x RJ45 console port
ECS4620-28T   L3 Gigabit Ethernet Stackable Switch – 24 x GE + 2 x 10G SFP+ ports + 1 x expansion slot, 1 x RJ45 console port
ECS4620-28F   L3 Gigabit Ethernet Stackable Switch – 22 x GE SFP + 2 x GE Combo (RJ45/SFP) + 2 x 10G SFP+ ports + 1 x expansion slot, 1 x RJ45 console port