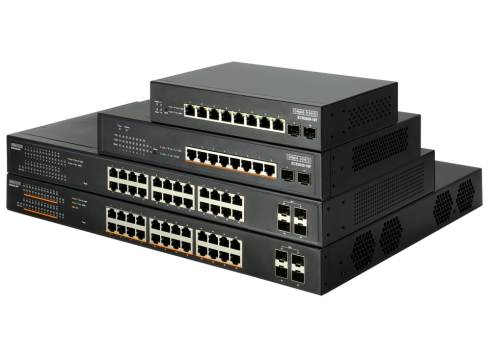 The ECS2020 Series is Edgecore's latest generation cost-effective web-smart switch solution. The ECS2020 is designed for SMB and enterprise markets and provides a complete solution from 10/28-ports, including both non-PoE and PoE options. The switches comply with the IEEE 802.3az Energy Efficient Ethernet standard. Support for IPv4 and IPv6 management and features ensures your network can upgrade from IPv4 to IPv6.The ECS2020 Series offers complete PoE solutions from 70 W to 190 W. All the switches are rack mountable. The ECS2020-10P is a fanless design PoE switch that supports up to 4 ports at 15.4 W, or 2 ports at 30 W to meet the increasing power demands of users. The ECS2020-28P delivers a default 190 W of PoE power to support future IP cameras, IP telephones, or access points.
Quick configuration and Multi-language
The ECS2020 Series is managed via clean and easy-manage interface which allows network engineers or SMB office managers to perform the limited configuration and monitoring steps required for the network. Meanwhile, the ECS2020 series supports multiple languages (TW/CN/English) which enables all users to easily operate the switch.
Performance and Scalability
The ECS2020 Series is a range of web-smart switches designed for the SMB market. The switches can be deployed in different target network topologies, from small to large. Besides powerful soſtware features, the switches provide a complete solution including both non-PoE and PoE options.
Multi Management & Comprehensive QoS
Supports Web, SNMP v1/v2c/v3, and Telnet management to provide CLI access. The switch supports a private MIB for detailed information.
Supports management functions through both IPv4 and IPv6
Eight egress queues per port enables differentiated management of up to eight traffic types
Traffic is prioritized according to 802.1p or DSCP, giving optimal performance to real-time applications such as voice and video
Enhanced Security
Port Security allows access to a switch port based on MAC address. This limits the total number of devices from using a switch port and protects from MAC flooding attacks.
IEEE 802.1X port-based access control ensures all users are authorized before being granted access to the network. User authentication is carried out using a standards-based RADIUS server.
Access Control Lists (ACLs) restrict access to sensitive network resources by denying packets based on source and destination MAC addresses, IP addresses, and TCP/UDP ports. ACLs are hardware supported, so switching performance is not compromised.
Secure Shell (SSH) and Secure Sockets Layer (SSL/HTTPS) encrypts Telnet and web access to the switch, providing secure network management.
DHCP snooping provides security by filtering un-trusted DHCP messages and by building and maintaining a DHCP snooping binding table.
Dynamic VLAN assignment for user authentication and location-independent access to the network
Smart Network Deployment & Solid Hardware Design
Voice/Surveillance VLAN for quick deployment of VoIP, and automatic Video VLAN to help deploy your IP-based surveillance system.
Provides 4KV surge protection on Ethernet ports, which can prevent damage to the network caused by power surges and lightning strikes to meet specific environment needs.
Operate at a temperature from 0-50ºC. The ECS2020-28P includes cooling fans, whereas the ECS2020-10T/10P/28T are fanless designs
Features
Support 2/4 integrated Gigabit SFP ports. Besides providing more uplink bandwidth, the SFP ports can be used for redundant links.
Operate at a temperature from 0-50ºC.
Supports automatic voice/surveillance VLANs, providing VoIP and IP cameras the optimum network traffic usage.
4KV Surge Protection
IGMP/MLD snooping manages multicast streams to ensure high-quality, smooth video.
Supports Web, SNMP v1/v2c/v3, and Telnet management to provide CLI access. The switch supports a private MIB for detailed information.
Models
| | |
| --- | --- |
| ECS2020-10T | 8 ports 10/100/1000Base-T + 2G SFP uplink ports |
| ECS2020-10P | 8 ports 10/100/1000Base-T + 2G SFP uplink ports with 8 port PoE (70W) |
| ECS2020-28T | 24 ports 10/100/1000Base-T + 4G SFP |
| ECS2020-28P | 24 ports 10/100/1000Base-T PoE+ + 4G SFP (190W) |